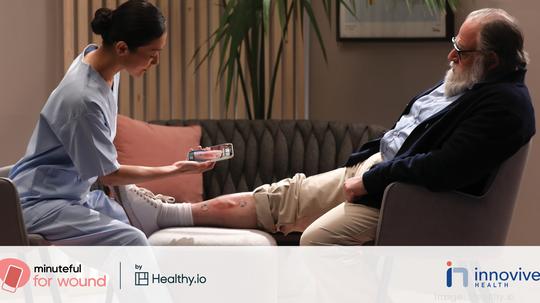 Healthy.io, whose U.S. headquarters is in Boston, is building a suite of smartphone health tools.Healthy.io
By Hannah Green – Inno Reporter
---
A Boston-area home health care agency is using a new digital tool that it hopes will help its clinicians treat patients more efficiently.
Innovive Health, a Medford-based home health care agency that serves patients with complex behavioral-health needs, has partnered with medical device company Healthy.io to use its wound-management smartphone application.
Healthy.io was founded in 2013 in Tel Aviv, Israel, and has its U.S. headquarters in Boston.
"I think our missions align. Healthy.io is trying to bring health care to the speed of life, which means health care anywhere, anytime, regardless of your economic status," said Paula LeClair, U.S. general manager for Healthy.io. "Combining that with Innovive, (who are) really taking on the most at-risk in the state."
Healthy.io is building a suite of smartphone health tools, LeClair said, including kidney and urinary-tract products. This latest partnership involves the company's Minuteful for Wound app, which uses a smartphone camera to help health care workers monitor the healing progress of wounds over time. In the app, clinicians take a video of the patient's wound. Two circular, multicolored calibration stickers must be placed near the wound to provide a light and size reference. The app then creates a 3D image of the wound and measures its tissue type, color, shape and size.
The software can be customized to request other input from clinicians, such as whether a wound produces an odor or causes pain. After scanning the wound, the 3D model is uploaded onto a dashboard where clinicians can compare the images and measurements at a glance.
"We're really trying to standardize getting that true picture of the wound over time," LeClair said.
Innovive said this approach allows its director of wound-care services to consult with nurses on each patient.
"It's really challenging for her to physically be able to go in and see all these wounds," said Kristen Palumbo, chief operating officer at Innovive. "Being able to collect data, to consistently scan the wounds, to provide that information to our wound care department, allows her to provide quick consults and to be able to provide real-time feedback to our clinicians around treatment."
The nursing field has been impacted by the nationwide labor shortages, as burnt-out staff make plans to move away from bedside care. A new report found that the nursing labor shortage will intensify in the next 18 months.
LeClair said they hope this app can make the jobs of nurses more manageable. In a study conducted by the company, LeClair said follow-up wound care visits were 67% quicker with their app because the health information was readily available.
The Minuteful for Wound app is fully commercialized in the U.S., LeClair said. The app was first rolled out in Israel and United Kingdom.
LeClair said Healthy.io is also looking at how this app would work in a hospital model. Wounds acquired during a hospital stay can be a cause for nonpayment or litigation, LeClair said, so the company sees a need for hospitals to scan wounds upon admission.
This partnership with Innovive is Healthy.io's largest rollout of its wound tool in the U.S. As many as 700 Innovive clinicians will use the tool while caring for some of their 3,000 patients in Massachusetts.
"We have a lot of patients who struggle with getting to the doctors or getting to wound care clinics, and the use of a technology like this allow us to improve access to care," Palumbo said.